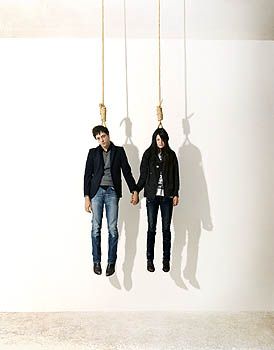 Photo: Perou.co.uk


THE KILLS: A documentary (2002-2005)
This is an anti-interview…..

By Alexander Laurence



What are the facts?

The Kills are vocalist/guitarist VV, a.k.a. Alison Mosshart, formerly of the
punk band Discount, and guitarist/vocalist Hotel, a.k.a. Jamie Hince. She's
from Gainesville, Florida and he's from London. I have been to Florida, but
never to Gainesville. With Gainesville, I think of the Larry Clark film "Bully."
It is an ugly place.

When the band Discount ended in 2000, VV began exchanging tapes with Hotel
through the mail, but it took too much time, so VV saved some money and crossed
the Atlantic so the duo could write. They couldn't wait. Early in 2001, they
issued a demo that showcased their gritty, sexy sound and earned favorable
reviews from magazines. They also contributed a song, "Restaurant Blouse," to the
compilation "If the Twenty-First Century Did Not Exist, It Would Be Necessary
to Invent It." Before the "Black Rooster EP" came out, they were an unknown
quantity. They were unknown.

Their first gigs were at the London and Glasgow LadyFests and supporting Le
Tigre. More importantly, The Kills also toured the U.S. for eight weeks before
returning to London to finish their first full-length album, "Keep on Your
Mean Side," which was released by Rough Trade in spring 2003.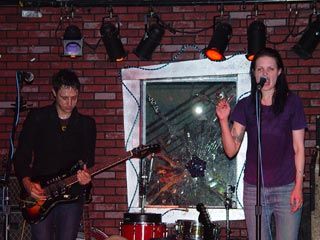 Photo: Keith Martin

The Kills make a certain type of music. This music is what I call
"inquisitive" music. It is a look in a mirror and maybe that look is too long. But it is
a necessary process. Sometimes the focal center of any study of phenomena must
be "inquisitive." This is so because as Heidegger says, "It is essential:
because it is prompted by an original ontic ignorance which does match the scope
of an ambitious project that outstrips all realistic possibilities…." The
wealth is there. People ignore the richness in the concentration of trying to
say something new.

Rebellion is often packaged in nice boxes. Once we see that rebellious
spirit, it must be dragged out year after year, to remind us of what took place. We
must see the body of Che Guevara to prove that the revolutionary spirit was
real and finite. Maybe the dead corpse of Guevara was just one body in a series
of Che Guevaras. What about those young people who weren't there to see the
strut of Guevara, the coolness of James Dean, or the geist of Iggy Pop? Do we
have to reenact this original violence? Do we have to perform rituals and
revivals every time we need a mind properly fucked?

At one point punk rock was a contraction for the sins of our fathers. The
question was asked: "how much could you put on a Belgian waffle?" Less was more
in the world of punk. Why not two members instead of four or five? A band like
Suicide looked odd in those early days. Now every band is like Suicide: just
the bare essentials. Wealth from poverty. More has been done. Too much is old
news. Less than the least is still new.

Greg Ginn from Black Flag once wrongly called Adam and The Ants fascistic
because they dictated fashion and music. He wanted the freedom that comes from
the blank slate of punk. Ginn wanted no rules and no judgments. He wanted big
slabs of noise to find his own reflection in. But in reality, Black Flag and
Fugazi led to more fascism and conservatism than Antmusic ever did. Adam Ant was
a temporary style revolution that lasted a season. His shtick went immediately
to MTV for the consumption of perennial mall goers. While hardcore punk leads
strict rules and behavior as how to conduct oneself. It became an invested
lifestyle. Its gallery of heroes was more dull and faceless than the generation
it replaced.

VV and Hotel knew the punk world well. Their previous bands Discount and
Scarfo fizzled out. It made them aware of the punk network in America. They were
well aware of its all-ages venues. This was the legacy of DIY punk bands and
zines. Those venues had paved the way for punk music to be heard in every shith
ole town on the map. The Kills would visit some of these places in June/July
2002. Alison called all the venues and scheduled a tour, financing most of it on
her credit card. They didn't really say, "Hey this is a Discount/Scarfo
thing." They had one song included on a compilation and nobody knew who they were.
They started in year zero. That was the only way to move forward.

In music, it's all about discovering something special and unique that could
seem your own. It's hard to do that today when there are a million bands and a
million websites. Back in the 1970s, you only had the album to look at. That
was the only information. Maybe there were a few magazines? When a band came
into town, it was the only time you saw ever them. It was a special moment
between you and the band. Now you can know the setlist and all the member's
birthdays before you have ever seen them. This is an era of the "big squeeze." We
are "inquisitive" about other's dirty laundry all the time, but never about
ourselves. You have to give to get.

The "big squeeze" is not for new ways of knowing. It's not an adjustment on
the thermostat. It is making you a parasite on the last carcass of
authenticity. It's time to find a new pace to live, and get out of the dead person's ass.

I read about The Kills in a local weekly. They were playing in Garden Grove,
about five miles away from where I was. It was in some industrial park. It was
some teenage halfway house. There were offices, couches, and a recreation
room with a pool table. There were about fifty people there who were half my age.
Is this a place where the face of rock could be changed? Although people
could disagree, The Kills were not the best-looking band. When they played they
performed to one another rather than to the audience. They played about six
songs. I bought the Black Rooster EP that day. I had never heard of Dimmak records
either.

The performance of The Kills peaked someone's interest. They were most
obviously interesting because there were only two of them and they had a drum
machine. But I suppose most people wanted to see the other band who was a more
conventional band with four members. I saw VV and Hotel walking around the
hallways. They looked uncomfortable. I have read that some people complain about The
Kills lack of ability to engage the audience. We are voyeurs on their private
performance. This seems like beautiful music from the private confines of
someone's bedroom. The Kills don't have a shtick. They can't perform and make
everyone happy. Whether it is imagined or not, The Kills are shy. They don't want
to be onstage. So when introverts get together, they seek out each other for
comfort and lose themselves in the music.

They are nothing like The White Stripes. They are neither as talented nor as
good-looking. Jack White is a musical phenomena on his own. Just give him a
stage and get out of the way. The Kills have very little in common with Mr.
Airplane Man, The Black Keys, or Modey Lemon either. Those bands want to pay
tribute to their record collections. The Kills are about right now, this moment.

There is much that is feminine and passive in music today. For one, almost
every band I see today is composed of very good-looking people. This wasn't true
of 1970s bands like Rush, Queen, or Kiss. Punk bands wanted to confront you:
your beliefs or your politics. Most cute bands today just want you to like
them. In a way, most bands are not much different from Britney Spears. There is
no Brechtian rush to the streets and to change the world with those feminine
bands. The Kills are not very pretty. There is something unhealthy about them.
They smoke cigarettes. VV almost looks anorexic. Kid Tsunami talks about needle
exchanges (a leftover good will effort of punk) but VV doesn't even look like
she has any energy for that. They turn their backs on the audience in a
slight way. They talk very little between songs if at all. They don't crack jokes.
It's all music. It's a wall of sound. You dig it or not. They don't care.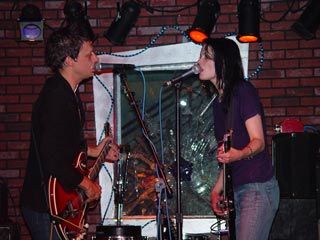 Photo: Keith Martin

Every need to ask a question is linked to the hunger for exhaustive answers.

Nostalgia is stronger than knowledge.

Rock and roll may have undergone significant changes in recent years, but The
Kills' no-holds-barred brand of dramatic guitar music remains vivid, vibrant,
and vital. Fuelled by a ceaseless spirit of forward motion, The Kills are the
sound of one of our most potent and distinctive bands operating on all
cylinders.

Where do they fit? Nowhere. You could say the same about The Velvet Undergro
und? They don't. They're just The Velvets.

The Kills "Black Rooster" EP is simple. It's about simple things. There are
grainy pictures. It sounds like it was recorded on a hand held tape machine.
The cover looks like a movie poster. It's a movie called "The Kills" featuring
VV and Hotel. There are the two people and two amps. Four songs and "Gum."
Some words from Kid Tsunami.

What is "Gum?" When The Kills play live they play tapes of the voice of VV.
In "Gum" she sounds like a telemarketer or a phone sex operator. She says
"I'm doing this for you." In the live show, Hotel triggers these tapes, as VV
lights up a smoke. There is barely a reaction to the tapes. Oh here are those
weird words. VV talks about hustling in another of her "spoken word" pieces.
Another is about a weatherman in Florida, I guess.

The first song "Cat Claw" has the chorus "You got it, I want it." This
could mean sex, drugs, or anything good around the corner. The Kills define an
unknown desire on the first song. That lures us in. This sounds is as distinct as
any punk song in the past ten years.

On "Black Rooster" they invoked the blues. Their blues takes place in the
basement where they "cuss and fight" and then more famously "fuck and fight."
Even though Hotel sings the lead and says "I'm not coming home again" it's
like he's sealing the fate of The Kills. They are not taking "no" for an
answer. They are not singing about an ex-girlfriend. They are light-years more
mature than most of their contemporaries.

"Wait" is slow. It sounds like waiting. It sounds like two people getting to
know each other. VV sings "Tell me about your ghosts" and sounds like he
lives in a purgatory. "Dropout Boogie" by Captain Beefheart is a recording made
on April 4th, 2002. I am surprised that no other early recordings make it on
this EP.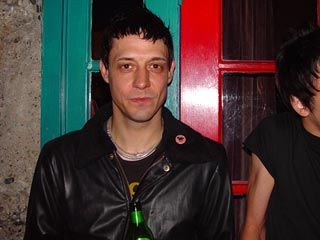 I met them in New York City in October 2002. They were playing a few shows in
the area before heading back to record their album. Jamie told me that they
were staying at the Chelsea Hotel, which was not far away from where I lived. I
soon discovered their interested in Andy Warhol and The Factory. Jamie said
something like they would be more interested in getting a filmmaker like Paul
Morrissey involved in the band, than a bass player. We talked about doing an
interview that week. I called them the next day at four in the afternoon. They
had just woken up. They soon found their way back to England.

When I heard the album, I knew this was an important band after all. Songs
like "Superstition" and "Fried My Little Brains" were harder than anything
before. Their confidence level in their performance had improved too. The
audience's reaction multiplied. They knew these songs. The video they did for "Fried
My Little Brain" was brilliant. It was lo-fi, scratchy, and sickly. The live
video that Keith Martin shot in San Francisco is the same way. Music at its
bare bones and its naked truth.

After seeing them play five times, in three different cities, I saw how they
developed. I spoke to Jamie again after the San Francisco show in July 2003.
He said they were going to Japan. I mentioned Warhol. Jamie said that there was
some performance they were doing that was going to feature Gerard Malanga. So
things have come full circle. There has always been, even with Warhol, an
American fascination with European things. Yet there has simultaneously been a
European fascination with America, epitomized by Warhol, Bob Dylan, and Edie
Sedgwick. We have that vicious circle in one band called The Kills.

Postscript, March 2005: It's three years since I first saw The Kills. I have
seen them perform almost ten times now. Twice in the past six months. Their
new album "No Wow" is a culmination of everything they have done. I still feel
they more about "now" and "moving forward" than ever. The only thing new I
have to add: I think songs like "The Good Ones" have a techno vibe to them.
It's something that I have felt all along. "The Good Ones" has more in common
with Giorgio Moroder's "I Feel Love" than the Blues. Also I find their
performances more extroverted. The Kills are potentially more engaging than they ever
were before. This doesn't limit their music's ability to be raw and naked.

*********

Fried my little brains

Got six troubles on my back
like six little milk teeth gone bad
won't move over won't get gone
won't move over mmm
Fried my little brains
Fried my little brains
Fried my little brains
Fried my little brains mmm
Only got ten minutes better get me good
pull out my little milk teeth
pull good
Won't move over won't get gone
won't move over
Fried my little brains
fried my little brains
Fried my little brains




I pledge allegiance to the Kills of the United States of Black Rooster, and
to the Cat Claw for which it stands: one kissy kissy under monkey 23, hitched,
with superstition and gum for all.

Read more / Permalink