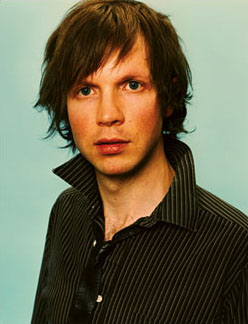 BECK
THE INFORMATION
SPECIAL EDITION PACKAGE SLATED FOR FEB. 27 RELEASE
FEATURES UNRELEASED TRACKS, REMIXES & VIDEOS
INCLUDING MICHEL GONDRY'S "CELLPHONE'S DEAD" & PATRICK DAUGHTERS' "NAUSEA"
On Feb 27 Beck will release the deluxe edition of his critically acclaimed album The Information on Interscope Records.

"one of the best albums Beck has ever made"
–Rolling Stone

"Not since the Stones wrote "(I Can't Get No) Satisfaction" has rock 'n' roll been so unpredictable."
– San Francisco Chronicle

"a self-aware update of dorm-room soundtracks like The Dark Side Of The Moon or OK Computer - it earns those comparisons." (A-)
- Entertainment Weekly

The Information was initially released in October 2006 and won immediate recognition not only for its 15 tracks but also for its innovative artwork and bonus materials; each package included a sticker sheet with which fans could create their own album cover, as well as a DVD of homemade videos, one for each song. With the forthcoming re-release Beck furthers his concept of the album as a living document, not just a set of recordings stuck on a plastic disc.


This special edition of The Information includes three discs as follows:

Disc 1
Elevator Music
Think I'm In Love
Cellphone's Dead
Strange Apparition
Soldier Jane
Nausea
Dark Star
Movie Theme
We Dance Alone
No Complaints
1000 BPM
Motorcade
The Information
New Round
The Horrible Fanfare/Landslide/Exoskeleton
Inside Out (bonus track)
This Girl That I know (bonus track)
O Menina (bonus track)

Disc 2 - remixes
Cellphone's Dead: Ellen Allien Remix
Nausea Pirates Mix: Bumblebeez Remix
Dark Star: David Andrew Sitek Remix
Nausea: The Chap Remix
Cell Phone's Dead: Jamie Lidell Limited Minutes Remix
Cell Phone's Dead VILLALOBOS entlebuch rmx: Ricardo Villalobos Remix

Disc 3 – videos (directed by Beck and Nigel Godrich except as noted)
Elevator Music
Think I'm In Love
Cellphone's Dead
Strange Apparition (directed by Beck and Autumn Dewilde)
Soldier Jane
Nausea
Dark Star (directed by Beck and Autumn Dewilde)
Movie Theme
We Dance Alone
No Complaints
1000 BPM
Motorcade
The Information
New Round
The Horrible Fanfare/Landslide/Exoskeleton
Inside Out
This Girl That I Know
Cellphone's Dead (directed by Michel Gondry)
Nausea (directed by Patrick Daughters)

Read more / Permalink